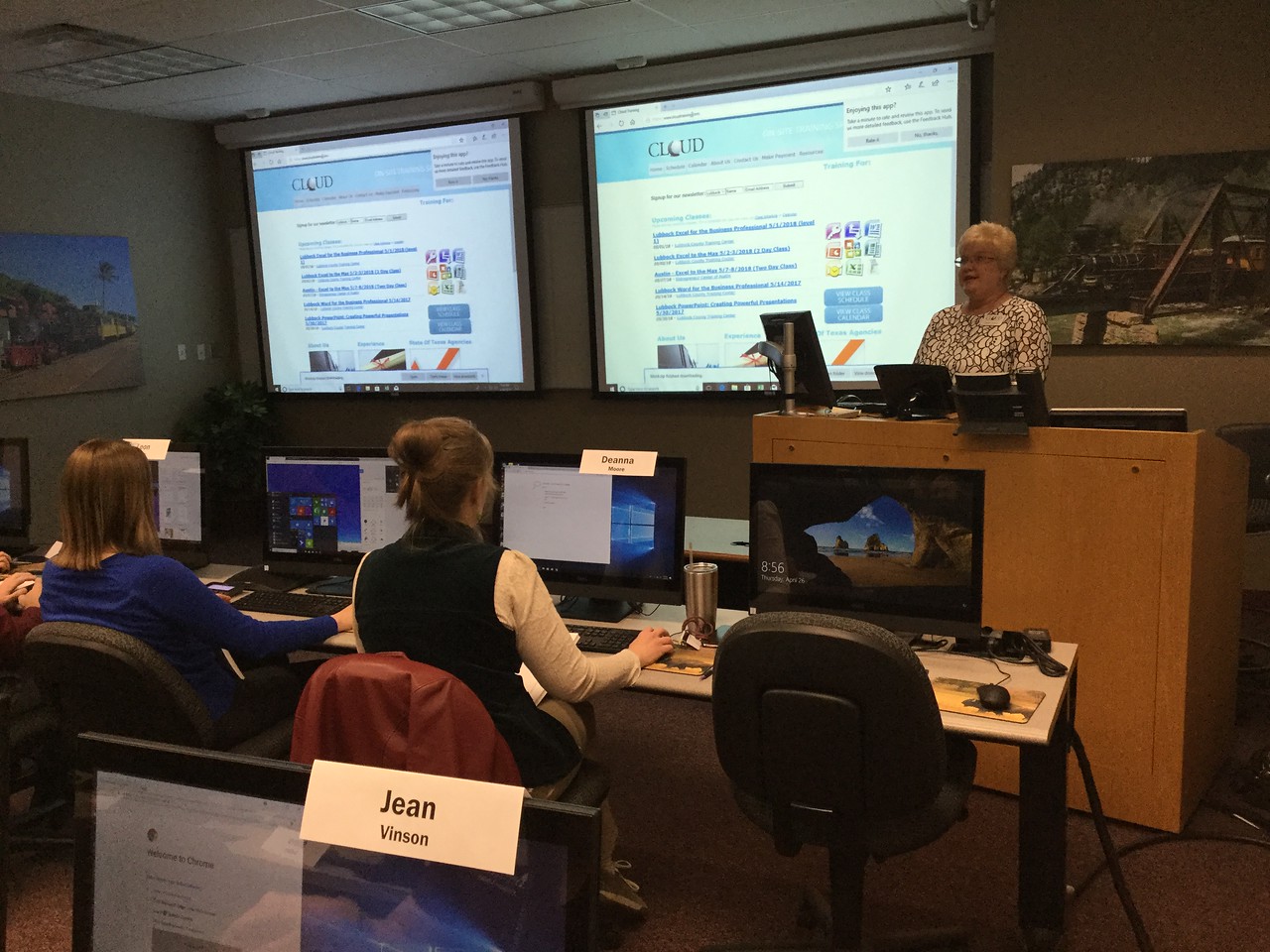 I've been using excel since the late 90s and have taken Office training at various points since then. Darla is easily the best teacher for this subject that I have EVER seen. I didn't know about 85% of what she was teaching and was able to follow it very well. She also provides excellent materials to support the student outside of class. Really knocked it out of the park!
Megan – Dept of State Health Services


Thank you so much for teaching this class! I am in awe of the sheer ability of the instructor, as well as the ease with which she conveyed it.
I believe the equivalent comparison would be a Nasa astronaut explaining things to a child who loved the stars. Darla made the class incredibly enjoyable and explained it in such a way that I was able to follow along the entire time, even without prior training. Well done!
Collin – University Medical Center
Darla – thank you for another great class and it was great use of the time and you are always so fun and inspiring when teaching your classes.
Garnet – Railroad Commission of Texas
I use Excel, though not every day. As a result, I need practical information I can grasp quickly and immediately put to use. Darla always presents material in a manner that is easy to understand while demonstrating the ways in which you can use it to your advantage! I definitely will benefit from this training!
Mendy – West Texas A&M University
"Excellent! Mind officially blown! I kept saying "Ooohh every minute or so. Great job"
Mina – Texas Tech Health Sciences Center
WOW, WOW, WOW! When you started to end the class, I could not believe that it had already been an hour. I had not stop taking notes the whole time. I could have listened to the instruction all day. Thank you so much for making an exception and allowing me into the class session. You do such a wonderful job blending beginners, with intermediate and experts and bringing everyone along together. You also do a great job of making everyone feel comfortable!
Thank you, thank you, thank you. I feel so blessed and I cannot thank you enough for the keystroke time you have saved me.
Hunter – Howard Payne University
The material you covered was so helpful. I believe you covered what most people will use on a daily basis. I learned so much.
Esparci – Office of the Attorney General Texas
I found the training very useful and it will definitely assist me in my daily work. Darla always uses the best ways to ensure everyone understands fully how to use the training topics and is always available to work with her students as needed.
Mary – Colorado River Municipal Water District
Great info! Instructor was highly knowledgeable
Mychael – Texas Tech University
I found the [CTRL]+E Flash Fill segment interesting. I found the discussion about inserting a table [CTRL]+T to be very useful. I like that you provided an exercise for after class for us to use. I think you made a very valid point to learn a keystroke or 2 for a week, adding on each week. Practice makes progress. I believe that our fingers have muscle memory, so the more you use something and practice it, the better you get, and the better you get the more you want to use something because you become proficient in it.
Christina – Railroad Commission of Texas
The training was very well put together. I particularly enjoyed it being very to the point! The instructor was easy to understand and very professional. Thank you!
Nicole – Bollinger, Segars, Gilbert and Moss, LLP.
This was an exceptional training. Loved the instructor's knowledge of Excel. It was like she was the developer of the program.
Ricardo – Office of the Attorney General
I've used Excel for a long time and it never ceases to amaze me how much more there is to learn. I have a list of new things to try. Some of them is because Excel "updated" and I didn't know about it. Thank you!
Sheralyn – Texas Tech University



"Darla Cloud is an amazing and knowledgeable facilitator. I really don't think I would go anywhere else to learn the programs she offers. I will be taking more in the future."
 

Kathy - Lubbock County



"This training has really given me the tools I need to go way beyond the 'standard' Pivot Tables that I've been doing. I will also be able to save time since the query will get some of my calculations completed for me, once I've done some more practicing. Very useful class. And Darla does a great job instructing the course."

Stefanie - Health and Human Services Commission